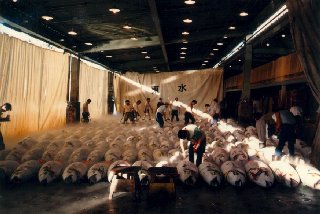 Tsukiji is located at Chuo Ward in Tokyo and occupies a district of Sumida River's right shore. It has come from a reclaimed land of the late 17th century. After the great fire of Mereki Era in 1657, Nishi-honganji Temple has been transferred there and Tsukiji has been urbanized. After the great earthquake of Kanto in 1923, the fish market, familiarly called Uogashi has been transferred from Nihonbashi and become the actual Tsukiji central retailer market of Tokyo.
Nowadays, the central retailer market of Tokyo has become a huge distribution base and responsible for feeding inhabitants of the capital region, especially Tsukiji, the greatest fish market in Japan. At Tsukiji Market, about 4000 tones of fishes and vegetables arrive each day and the sales figures are about 3 billion yens.
Tuna fish widely ranges in temperate and tropical zones of the Pacific Ocean especially near Japan. They are used to being captured by angling, long-line fishing or drift nets, and the season of tasting is the Winter. Its flesh is dark-red and will be tasted in Sashimi, Susi, Teriyaki (broiled with soy) etc. Because of a progress of the fishing and freezing techniques, the products arrive even from the distant Indian and Atlantic Oceans.
The wholesalers sell wholesale to customers by auction, the fishes entrusted by fishermen or senders. In order that the fishermen could commissioned the sales of their merchandise, they should have enough funds and trust. For that reason, you need an authorization of the agriculture and fishery minister to become a wholesaler of the central wholesale market.