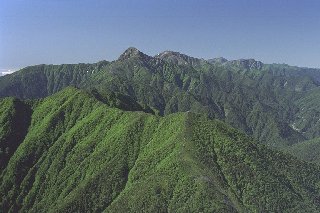 Akaishi Mountain Chain, also called South Alps, is spreading over 3 prefectures of Yamanashi, Nagano, Shizuoka. It is a chain of high peaks of more then 3000m high such as Mts. Kita, Shiomi and Akaishi, and forms the main part of South Alps National Park. The rivers indent profound valleys and the mountainsides are very steep. There remain cirque glaciers at Mts. Senjo, Arakawa etc.
Mt. Kita, towering in the west of Yamanshi Prefecture and located in the north of Akaishi Mountain Chain, is one of the mountains forming Sirane-Sanzan group. Its summit is pyramidal and split into 2 peaks, the northern peak and the principal southern one, and its east side forms a steep wall. It belongs to South Alps National Park and is climbed from the river bed of Noro, called Hirokawara (wide river bed).
Mt. Aino is located in the north of Akaishi Mountain Chain, between Yamanashi and Shizuoka Prefectures and its hight is 3189m. Being the fourth highest peak of Japan, it is called Shirane-Sanzan (3 Shirane mountains) together with Mts. Kita and Notori. It is located at the source of Haya River and has cirque glaciers on the northern and eastern sides. A collapsing wall of Arasawa is on the south-west side.
Haya River of which upper portion is called Noro River, is situated in the west of Yamanashi Prefecture and about 50 km long. It is a branch stream of Fuji River and takes the source on the west side of Mt. Kita. As its name may sugggest, having a steep river bed and abundant waters, it is exploited by hydroelectric power stations. It has not only beautiful valleys such as Hakuho Valley but also Nishiyama and Narata Spa.
Mt. Shiomi is located almost in the middle of South Alps and generally speaking ,the area toward the south from that peak is called "Southern South Alps" and toward the north, "Northern South Alps". According to a theory, the name of Shiomi has been given because the ocean may be seen from there. Nevertheless, it should be noted that there are many locality names related to the salt such as Shioyu and Shiokawa in its neighborhood, so the name could originate from it.