Miyazaki City - the town where Japan began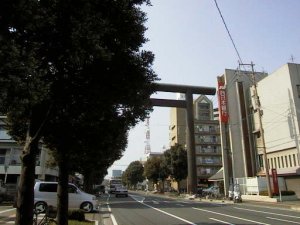 According to a legend, Japanese imperial family might be living in Miyazaki region but following the recommendation of a senior of the tribe, they might have left to conquer Kinki region, better located to govern Japan.
After their departure, the town had disappeared completely from the history. It is in 1883 the town surfaced again, when the government has chosen it as the capital of newly created Miyazaki prefecture.
---
Miyazaki-jingu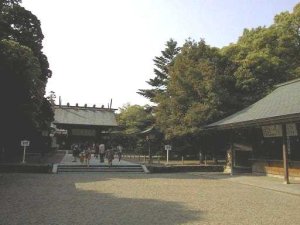 Miyazaki-jingu is the shrine built on the place where Japanese first emperor, Jimmu-tenno, might be living before leaving for Kinki region. For this reason, it has been chosen as the most important shrine in Miyazaki prefecture.

A parade of Jimmu (Jimmu matsuri or Jimmu festival) takes place on October 26 of each year.

---
---
www.hikyaku.com/summit/miyazakig.html
Photo Copyright, Kinziro
Last update: May 17, 2003
Text Copyright, Free Light Software