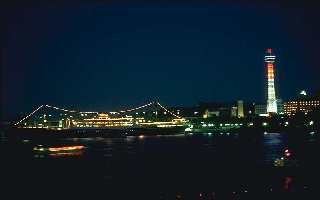 A solitary village on Tama Hill, Yokohama has developed quickly after the opening of its harbor, according to the Treaty of Commerce and Navigation between Japan and USA in 1859. Kannai District is the city center and in the reclamation land near Kawasaki, there is a concentration of large plants such as iron and steal industry, shipyards, chemical and refinery industry etc.
Yokohama together with Kobe belong to the two largest merchant harbors of Japan and centering around "Big Pier" and Yamashita Quay there exist well equipped installations. The main export items are far mostly automobiles then iron and steal, electric equipments etc. The imports are crude oil, no steal metal, wheat etc.
Hikawa-maru was completed at Mitsubishi Shipyard in Yokohama in the 5th year of Showa era then entered Seattle route. During the Pacific War, she worked as a hospital ship. She returned back to Seattle route in the 28th year of Showa and retreated in the 35th year. She is now moored at Yamashita Park as a symbol of Yokohama Harbor.
In order to commemorate the 100th anniversary of the opening of Yokohama Harbor, people decided to construct a tower which would command a whole view of the harbor and the town. Its name has been chosen "Marine Tower". The design of tower imitates a lighthouse in order to symbolize Yokohama: effectively, it has its official function and the position above the soil is the highest of the world.