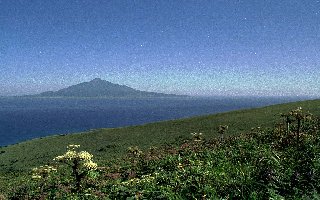 Rebun and Rishiri islands belong with Plain of Sarobetsu in Hokkaido side, to Rishiri-Rebun-Sarobetsu National Park. There are many tourist resorts such as volcanic and sea-eroded formation, beach and alpine vegetable bunches etc. You will also find there abundant marine products such as sea urchin, sea tangle and abalone. There is a regular shipping service from Wakkanai.
The circular island located in the southwest of Wakkanai city, which owns Cap Soya, the most northern part of Hokkaido, is called Rishiri Island. About 63km round, Mt. Rishiri of 1721m high, also called Rishiri-fuji, spreads its skirt from the center of the island to the beach. By the way, the name of the island comes from the Ainu language 'Ri-shiri', that is 'High Island'.
Rebun island, located on the sea of Japan, is the most northern island of our country. The name comes from the Ainu language 'Rebun-shiri', that is 'Island of offing'. Being a plateau form island with Mt. Rebun of 490m high as the culminating point, everybody can easily admire, from near the coast, Alpine flowers which flourish in a harsh climatic condition.
One of the 100 most famous Japanese mountains, Mt. Rishiri is located on the sea, 65 km from Wakkanai Harbor. Holding both rudeness and gentleness, many people have expressed their surprise on the literature when they saw it first time. You can climb there directly from 0 m above sea level to 1721 m: a real pleasure for the mount-climber.