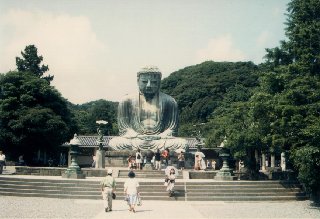 Kamakura being the town where Minamoto no Yoritomo opened a Shogunate in 1192, it has many shrines, temples and other historic spots, and is considered a representative tourist resort of Shonan Region. Moreover, there are many luxurious residences and villas, and recently many people have begun to go working to Keihin Region from there. Located in an accumulated lowland surrounded in one side by a sea and other three sides by hills, the roads created by cutting hills are called "Kirido-shi" and pass through everywhere.
The Great Buddha of Kamakura which is cited with that of Nara is located at Kotoku-in at Hase District of Kamakura City. Its official name is Kondo-amida-nyorai-zo, and it is a copper statue of 11.5m high and 124 tons weight. Well known as a symbol of Kamakura, it is always crowded by pilgrims. Basically Unkei style with a flavor of Chinese Song style, it is a typical art of Kamakura Region at that period.
Firstly, an itinerant buddhist monk, Shamon-Joko, after collected contributions from all over Japan, began to construct a wooden statue. The construction of the actual golden-copper statue began in the 4th year of Kencho Era (1252). At the beginning, the statue had been installed inside of a house, but after the flood of the 2nd year of Oan Era (1369) and that of the 4th year of Meio Era (495), it has been settled in the current outdoor pose.
Kamakura Period which lasted from 1192 to 1333 is epoch-making for the Japanese Buddhist history, because newly created sects such as Jodo-shu, Nichiren-shu and Zen-shu had been widely accepted among peasants and warriors. As far as the sculpture and the portraits are concerned, they became more realistic. The importation of Kara-yo (Zen style) should be noted in the architectural domain.