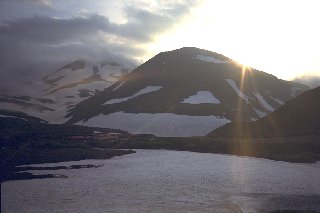 Mt. Daisetsu is a group of volcanos located at the center of Hokkaido and Ohachi-daira caldera is surrounded by many peaks such as Mt. Asahi, the highest, Mt. Hokushin, Mt. Hakuun etc. Above 1700m, it is covered by creeping pine trees and you can find even snow valleys in summer: its skirt is covered by a huge primeval forest. Belonging to Mt. Daisetsu National Park, you can reach there by using ropeways from So-un Valley or Asahi-dake Spa.
2290m high, Mt. Asahi is a stratovolcano, one of the peaks of Daisetsu volcano group and the highest summit in Hokkaido. Formed by andesite, it has, in the west, an explosion crater which fumes sulfurous vapor and Pond Sugatami is at its bottom. In order to climb there, it is convenient to use ropeways from Asahi-dake Spa.
Located near Mt. Asahi and 2125m high, Mt. Ryoun is a lava dome. Because a viscous andesite magma has spouted out, it has solidified by accumulating above the crater instead of spreading over.
Located at the center of Hakkaido, Daisetsu National Park which occupies the main part of Ishikari Mountains, is the biggest of Japan. Formed by Daisetsu, Tokachi and Ishikari volcano groups, its characteristic landscapes are volcanic craters, swampy plains, snow valleys, Alpine flowers, mountain body covered by primeval forests of needle-leaved trees, etc. The most suitable season to visit there is between June and September. It was promoted to a national park in 1934.