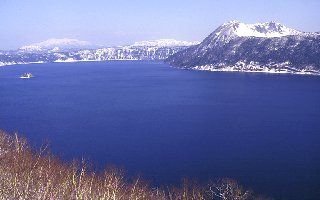 Lake Mashu, with 20km of circumference and 140m of depth is a comma-shaped caldera lake originated from a volcano activity of Mashu Caldera. It is classed with Lake Baikal in Siberia as one of the most transparent lakes of the world. Moreover it is well known that the lake keeps the constant water level in spite of the lack of in and out flows.
Small island called Kamuish (divine island) is found at center of the lake and Mt. Kamuinupuri (divine mountain in Ainu language or Mt. Mashu) is towering on the eastern shore. As called "foggy Lake Mashu", it is frequently veiled by the fog, specially during Summer and scarcely visible.
A strong tribe chief has been killed. When his mother was running about trying to escape in dark fields and moutains with bringing her grandchild, she lost him. After looking for the beloved grandchild, she arrived finally the shore of Lake Mashu and asked to Mt. Kamuinupuri the permission to rest. By taking a rest, she transformed herself to an isle because of the fatigue and the sadness.
1545m high, located at the base of Shiretoko Peninsula, Mt. Shari belongs to a regional national park above 700m. Many people climb there because of plenty of interesting sights such as strange-shaped rocks, waterfalls and Alpine flowers. There, you can find snows on the northern slope even in Summer and get a view to mountains of Shiretoko and Akan, Lakes Kussharo and Mashu and even clearly Kunashiri Island in a far distance when it is fine.