Fukuoka City - the capital of Kyushu region
It is on the northern coast of Kyushu island that the first immigrants coming from the continent put the foot around 300 B.C. and developed the civilization of Yayoi. Archeological abundance of the region shows that it had been the center of Japan during Yayoi period which spreads from 300 B.C. to 300 A.D.
Though from this date, the center of Japan had moved to Kinki region, Fukuoka remained a prosperous town (called Hakata at this time) because of its harbor located on the bottom of Hakata bay, and the proximity to the town of Dazaifu, an administrative center of Kyushu.
The invasion of Mongols on the Hakata bay in 1274 and 1281 shows the strategic value of this town at that epoch.
In spite of the appearance of rival harbors such as Nagasaki on the west and Kitakyushu on the east, Fukuoka city remains the queen of the region because of an easy communication with other regions: not only it owns a large harbor but also motorway network, a terminus of high speed trains (5 hours of trip on the distance of 1200 km from Tokyo) and an unique international airport of Kyushu just near the downtown.
---
Hakata Dontaku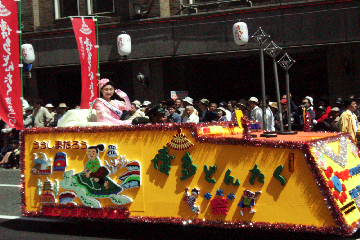 The origin of "hakata Dontaku" goes back to 1179 when the merchants of Fukuoka city, yet called Hakata, organized a parade after having carried out a courtesy visit to the castle on the occasion of a new year.

Though the festival takes place now at the beginning of may instead of January, it still remains the most large popular festival on Kyushu island: each merchant, company, district association, school etc. take part in the parade in order to hoist the town's prestige.

"Dontaku" comes from a Dutch word "Zontag" which means "Sunday" but used in the sense of "festival".

---
---
www.hikyaku.com/summit/fukuokag.html
Photo Copyright, Masahiro Hirano
Last update: May 17, 2003
Text Copyright, Free Light Software