In order to make easy your travels in Japan, we have listed here famous Japanese landmarks with photos. You can also improve your Japanese language skill with an explanatory text associated to each tourist site, if you purcahse Free Ligh Japanese. Please click on each thumbnail picture below to see the detail of scenery and possibly to download its exercise.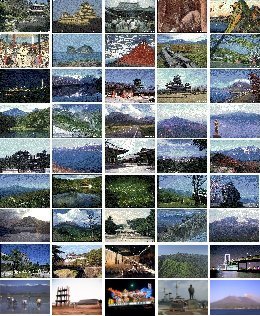 Note:
These are exercises files for Free Light Japanese II. If you don't know the product, please read its informative page and possibly download a demo version.
Everybody can download the first 5 exercises files, while others are reserved for registered users. If you have not yet got the password, please go to our free updating area to see the instruction.
These new series of exercises will cover the history, the geography and the culture of Japan. Please regularly visit this page to discover new exercises.
An exercise file contains a scenery picture, explanatory Japanese texts, corresponding voices and English translation.
---
www.hikyaku.com/gallery/gallery.htm
Photo Copyrights, Corel Corporation, Maruo, Tabata Mitsuo, Toyoda Sadao, Komai Masaya, Terunuma Shigeto, Taguchi, Eli Charne, Sugimoto Tomohiko, Katsuki Koji, Ito Motohiro, Suzuki Akio, Keiko Mori
Last update: January 18, 2020
Text Copyright, Free Light Software