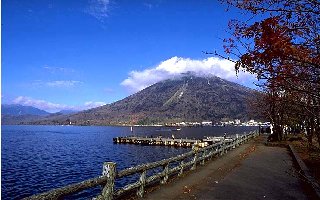 Nikko, famous international tourist resort, is divided into Nikko-sannai where 2 shrines and 1 temple (i.e. Toshogu, Futaara Shrine and Rinno Temple) are located, and Oku-nikko around where Mt Nantai, Lake Chuzenji, Plain of Senjo and Nikko-yumoto Spa are located.
Mt. Nantai is a conical strato-volcano with 2482m high. In the south, therelies Lake Chuzenji and in the west, a swampy plain, Senjo-ga-hara. On the slope of the mountain, you will find many eroded radial valleys, called "nagi", and at the top, a hoofed crater of 400m diameter and 200m depth is opened to the north.
Mt. Nantai is a sanctuary of the mountain belief, inaugurated by Saint Katsudo in the 2nd year of Teno era (782), and the inner shrine of Futarasan is installed at its peak. Each year from the 1st to 8th August, a climbing ceremony takes place.
Lake Chuzenji was formed by an explosion of Mt. Nantai which came to block Daiya River. On the lakeside, we can quote, as interesting view spots, Chuzenji Spa, middle shrine of Futaarasan, Tachigi-kannon and Shore of Iris. Around Ojiri Bridge, you will find a range of piers for pleasure and hired boats as well as well equipped hiking courses.