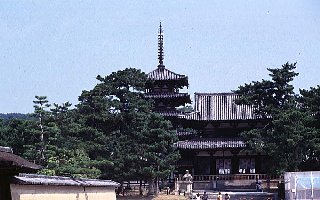 Horyuji Temple is located in the fief of Prince Shotoku, Land of Ikaruga: there, you can see a range of the oldest wooden buildings of the world like Kondo and Gojuno-to (five-storied pagoda). Moreover inside buildings, there exist a plenty of valuable art works and it is considered as one of the most important temples of the Japanese culture. It has been chosen as a human heritage of UNESCO in 1993.
Prince Shotoku, sometimes called also Prince of Umayado is the main politician in Asuka era. Once became the Crown Prince, he carried out a policy based upon Buddhism as the regent of Empress Suiko. In 604, he legislated a Constitution with 17 articles, the oldest written law of Japan. In 607 he sent a Japanese delegation headed by Onono Imoko to China.
Gojuno-to (five-storied pagoda) of Horyu-ji seems feminine compared to manly towers of Kofuku-ji or To-ji. It is due not only to the ratio 2:1 of the first and the fifth stories which shows a stability and a sharpness but to fin works such as an auxiliary story (Mokoshi) which is rare in other towers, figures of demons which support roofs and sculptures of dragons.
Chumon (middle gate) is one of the buildings which show characteristics of Asuka's architecture and serves for an entrance to the west monastery. The columns which swell out at its center are called "entasis" and originate from an influence of the ancient Greco-Roman architecture. The oldest statues of Kongo-rikishi (guardians of Buddhism) in Japan are installed at the both sides.