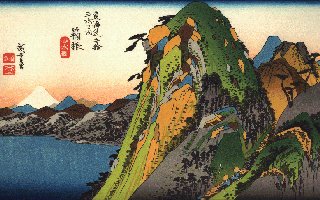 Ukiyoe artist, Ando Hiroshige was born in Edo (actual Tokyo) in the 9th year of Kansei era (1797). At first, he learned to paint from Utagawa Hiroshige, then formed his own style by learning even from Western schools. The success of the series, Tokaido-Gojyusantsugi made definitive his fame as a landscape painter.
Hakone is a composite volcano located in the southwest of Kanagawa prefecture and the diameter of its caldera is about 11 km. In the center, there are 7 volcanic peaks such as Mts Kamiyama and Komagadake while Ashinoko lake lies between them and the west outer rim. Being one of the most important tourist resort, almost all the areas are included in Fuji-Hakone-Izu National Park.
Lake Ashinoko was formed about 3000 years ago by the last volcanism of Hakone, caused by a hydraulic explosion of Owaku valley which blown up a part of Mt Kamiyama. It provoked a huge landslide which came to block Hayakawa river by pushing toward the actual end of the lake.
During Edo period, in order to control strictly each seignior, the shogunate forced them to do a trip every year between their feuds and Edo (actual Tokyo). As a popular song tells "Hakone is the steepest pass of Japan", it was the most difficult passage of Tokaido road which has linked Tokyo and Kyoto. Now a cortege of seignior is passing in silence in mountains of Hakone.