Iizuna Highland (Iizuna kogen)
Mt Iizuna, 1917m high, is a volcano located on the north of Nagano City. Its summit is divided to many peaks and its topmost is worshipping 5 God Shrines. It had been one of the most famous Ninja's training grounds in Japan until Sengoku Period. Its southern skirt, also called "Iizuna Highland" has many ponds and swampy grounds which give many beautiful Alpine flowers in spring: it becomes an excellent golf resort in summer and a skiing in winter. During Nagano Olympic games of 1998, the contests of "free style ski", bobsled and luge were organized there.
Click here to get more web sites on Iizuna kogen.

---
Panoramic View of Mt Iizuna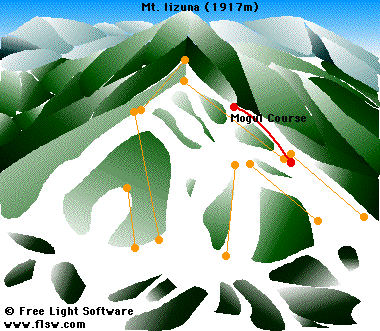 Located on the southern skirt of Mt Iizuna, this skiing resort is a favourite of the citizens of Nagano, because it is reachable by car in 20 minutes from the town. Though very small, it owns a ski run recognized by FIS (Fédération internationale de ski).

---


---
www.hikyaku.com/nagano/iizunag.htm
Photo Copyright, Kako
Last update: October 10, 2007
Text Copyright, Free Light Software