Happo Ridge (Hakuba)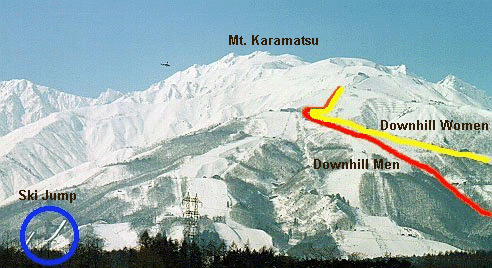 Happo is the mountain ridge which goes toward the east from Mt Karamatsu (2696m) of Ushiro-tateyama mountain chain and belongs to the village of Hakuba, county of Kita-azumino in Nagano Prefecture. It is well known as a big ski resort and you can climb by using ropeway and ski lift from Hosono Hamlet located at the foot up to Kurobish-daira (1680m) through Usagi-daira. During Nagano Olympic games of 1998, the racing of downhill and super giant slalom as well as ski jumping were organized there.
Click here to get more web sites on Hakuba.

---
Panoramic View of Happo-one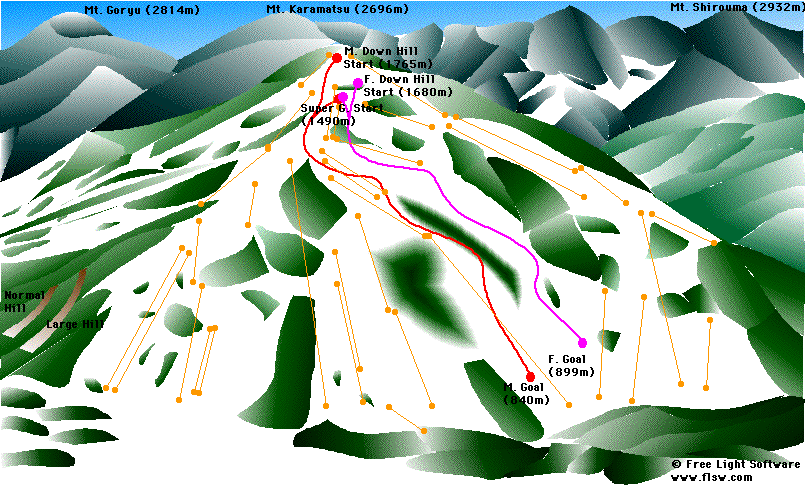 Slope specifications
| | | | | |
| --- | --- | --- | --- | --- |
| | Downhill Man | Downhill Woman | Super G Man | Super G Woman |
| Start point | 1765m | 1680m | 1490m | 1486m |
| Goal point | 840m | 899m | 840m | 899m |
| Vertical drop | 925m | 781m | 650m | 587m |
| Course length | 2923m | 2654m | 2423m | 2080m |
| Average gradient | 21,3° | 22,2° | 22,2° | 22,8° |
| Maximum gradient | 30,9° | 30,9° | 30,9° | 30,9° |
| Minimum gradient | 14,9° | 15,5° | 15,5° | 15,5° |
---


---
www.hikyaku.com/nagano/happog.html
Photo Copyright, Terada
Last update: October 10, 2007
Text Copyright, Free Light Software