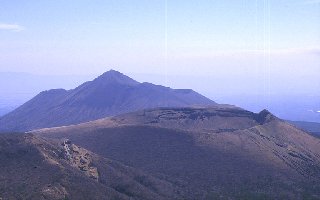 Mt. Kirishima is a group of vlocanos located between Miyazaki and Kagoshima prefectures and more than 60 explosions have been recorded since 742. Mt. Karakuni, the highest, as well as Mt. Takachiho, Mt. Shinmoe etc. are towering and the craters of explosion and volcanic lakes such as Miike and Onamiike are scattered there. All the region belongs to Kirishima Yaku national park.
Mt. Takachiho is located at the eastern limit of Kirishima Mountains. It is lower than Mt. Karakuni, nevertheless its triangular peak is very striking. At the western side, a great volcanic crater is opened. According to a legend, Prince Ninigi would have been requested by Great Godess Amaterasu to go down from the Heaven over that peak and became the ancestor of Japanese Imperial Family.
Mt. Shinmoi is located just at center, between Mt. Karakuni and Mt. Takachiho. It violently exploded in 1959. Even recently, between November 1991 and April 1993, it was banned to climb there because of its activity.
You can climb very easily to Mt. Karakuni from Ebino Highland and the view from the top is splendid. Facing Mt. Takachiho, where Japanese Gods would have come down according to a legend of the Imerial family, as well as 23 volcanos and volcanic lakes of different dimensions, it is a big panorama indeed.